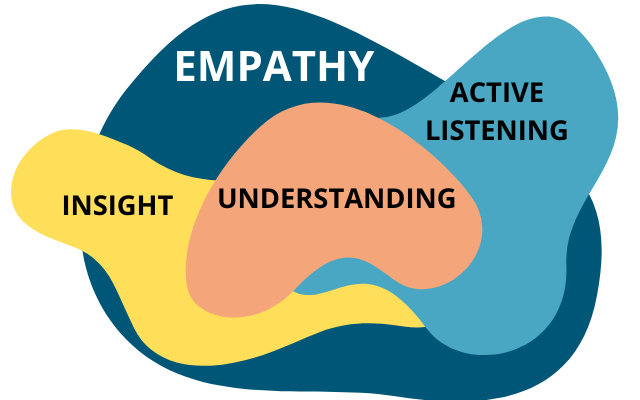 Empathy: The soft skill needed to harden our evaluation practice
In a recent professional development workshop with colleagues, it became clear that to become the best evaluators possible, we need to invest in becoming the best possible human beings.
It's no small ask!
Self-development can take many forms, but what's most relevant for evaluators? The Australian Evaluation Society (AES) developed an Evaluator's Professional Competency Framework. Of the seven domains of competence, only one relates to the human skills required to be a skillful and successful evaluator. In this framework, the domain of 'interpersonal skills' includes a long list of skills in which to develop competency, including written and verbal communication, negotiation, facilitation, maintaining objectivity and displaying empathy.
In our experience, the most fundamental skill is empathy: the ability to recognise emotions in others, and to understand their perspective. It's a way of connecting with the emotions that another person is experiencing, not with the situation or the circumstance (Brown, 2018). (If you haven't seen Brene Brown's excellent illustration of the difference between empathy and sympathy, check it out here.)
Psychologists have identified empathy as one of the five key components of emotional intelligence, which is a vital leadership skill (Goleman, 1996). It is a skill that develops through three stages: cognitive empathy (an ability to understand what another person might be thinking or feeling), emotional empathy (an ability to share the feelings of another person) and compassionate empathy (having concern for another person, sharing their pain, and doing something about it.)
It is difficult to debate the importance of empathy as a human skill, but to actually develop it can be difficult. The evaluation literature and, more broadly, is almost silent on how to develop empathy (though, we think developing your listening skills is absolutely key).
As Empathy First founder Leanne Butterworth says, it can sometimes be difficult to even see the issues that should elicit our empathy because of  – the "lack of hurdles in your lane." Getting a good sense of your own privileges can be one way of developing your empathy superpowers (take this 'What is your American Dream Score' quiz – you'll be surprised at how many 'hurdles' there are that you haven't even thought of – it's American-centric, but still very informative. You can even see how your score compares to others.)
A structured method of gathering data to create a shared understanding of others' experiences is 'empathy mapping'. Originating as a design thinking tool, empathy mapping is now typically used for user experience/service design. Empathy maps are collaboratively created visualizations of experiences, often focused around what a person sees, thinks, feels and does, which can help create shared understanding. Trying to put yourself in someone else's shoes to understand what life is like for them helps designers to understand and empathise with service users and respond to their wants and needs.
Empathy maps are a useful way for evaluators to connect with colleagues and clients alike. They can evaluators make a holistic assessment of a client or colleague's situation. Or they can be used as a process for checking we aren't making assumptions about what someone is experiencing.
We used empathy mapping as part of the process of developing the award-winning Practice Framework with KBHAC. We worked with KBHAC workers and Stolen Generation survivors to map how survivors see and experience things at each stage of the healing process. This helped identify how workers need to be to support survivors and the actions workers need to take to help survivors move to the next stage of healing.  The result is a series of See, Be, Do statements relating to each stage of the healing journey, which translate complex psychology into clearly understood narratives.
'See, Be, Do' is not only a way of mapping empathy, but also a way to think about practicing empathy, too.
See/Listen to the perspectives, experiences, and knowledge of others.
Be: believe and validate experiences. Think about how we are with each other. How we communicate, verbally and non-verbally.
Do: One of the ways to show empathy is to amplify the voices of and opportunities for people who have more hurdles in their lane, which requires a good understanding of your own privilege.
It's always worth checking your assumptions about whether the way you think you show empathy is empathetic in practice. Leanne Butterworth has created a helpful quiz to check your empathy skills.
A great reflection for evaluators is to think about it from the other perspective: what will stakeholders and participants see when empathy is present in your practice?